a poll, anyone ?
We now have a 'small' poll appearing at the end of every post. A quick indicator, a small experiment, to see how the blog is turning out. It takes time to put together a post, and it would be absolutely awesome if we churned out stuff that folks found useful.
So please two seconds (thats all it takes. promise) to tell us exactly what you thought about the article.
As usual, if you feel like writing out a longer love/hate mail you could comment or email us at admin@bumsonthesaddle.com and we will reply :)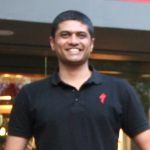 WHAT I LOVE ABOUT CYCLING
I love riding my bike. Whether it's a simple commute, a high-intensity road race, a jaw-grinding brevet, fixie rides thru packed Indian city or a kick-ass technical single track – I love it all. Apart from riding bicycles, I love being all geeky and know everything there is to know about bicycles, technology, bike fit, and service.
I started BUMSONTHESADDLE to share this passion for cycling.
DISCIPLINE: Partial towards MOUNTAIN BIKING but love it all
CURRENT BIKE(S): Specialized Rockhopper, Specialized Tarmac, Pure Cycles Original
DREAM BIKE: S-Works Epic HT & S-Work Roubaix
OTHER PASSIONS: Technology, Photography, Baking, Travel, and Reading