The supply of bikes has ceased. Our source has run dry. No more Trek bikes for the moment.
Hence, we had to inconvenience some prospective customers by asking them to wait till we got the fresh stock of bikes. To those who are waiting faithfully for their new bikes, we thank thee.
The next batch of shiny new warm oven-fresh delectable drool-able shagtastic out-of-the-world Trek Bikes are expected around the end of this month (so the green men tell us)
As usual, feel free to ping us and bug us to your hearts content about the bikes. We will be more than happy to answer your questions.

Mail us at admin@bumsonthesaddle.com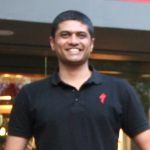 WHAT I LOVE ABOUT CYCLING
I love riding my bike. Whether it's a simple commute, a high-intensity road race, a jaw-grinding brevet, fixie rides thru packed Indian city or a kick-ass technical single track – I love it all. Apart from riding bicycles, I love being all geeky and know everything there is to know about bicycles, technology, bike fit, and service.
I started BUMSONTHESADDLE to share this passion for cycling.
DISCIPLINE: Partial towards MOUNTAIN BIKING but love it all
CURRENT BIKE(S): Specialized Rockhopper, Specialized Tarmac, Pure Cycles Original
DREAM BIKE: S-Works Epic HT & S-Work Roubaix
OTHER PASSIONS: Technology, Photography, Baking, Travel, and Reading