Race .. Race .. Race
BangaloreBikers announces the Bangalore MTB Race. Its gonna be a 100km road race. Details follow
Date : 19 July 2008 (Saturday)

Time of reporting : 5:30 AM

Time of staring : 6:00 AM

Start Point : Around 1 KM from Hebbal Flyover towards Devanhalli on the left side

End point : Same as above

Point of return : The Nandihills (Palace Gate)

Race will be considered off at : 12 AM (So you get 6 Hours to complete the race)
Important : You have to wear a Paper tag stating following things (Best is to sticker this info on your bike and helmet)

1. Name :

2. Blood Group :

3. Emergency Contact Number :
What to bring :
Helmet (Mandatory – no helmet, no race)
Whatever you may need on the way to eat and drink (No support provided by us in these terms)

Water
Electral
Bananas / Things you would like to eat on the run
Energy Bars / drinks
Puncture kit / small repair kit
Mind you, the more you bring the slower you will be, so do it optimally.
What is arranged :

Volunteers have arranged for an Emergency car, in case of medical emergency

In case of broken bike, you will have to arrange for your own transportation back.
What does it cost : Nothing …. ! ( YES, Best things in life comes for free)
Thanks to Ravi, Dinesh and a bunch of others for taking the time and effort to organize all this. Way to go guys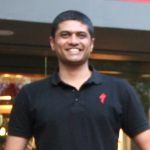 WHAT I LOVE ABOUT CYCLING
I love riding my bike. Whether it's a simple commute, a high-intensity road race, a jaw-grinding brevet, fixie rides thru packed Indian city or a kick-ass technical single track – I love it all. Apart from riding bicycles, I love being all geeky and know everything there is to know about bicycles, technology, bike fit, and service.
I started BUMSONTHESADDLE to share this passion for cycling.
DISCIPLINE: Partial towards MOUNTAIN BIKING but love it all
CURRENT BIKE(S): Specialized Rockhopper, Specialized Tarmac, Pure Cycles Original
DREAM BIKE: S-Works Epic HT & S-Work Roubaix
OTHER PASSIONS: Technology, Photography, Baking, Travel, and Reading