Check out this fantastic video made by Trek on why they are in the industry.

Very motivational. Makes me wish I was on a saddle right now
Its hard to explain, but there is nothing like riding or for that matter even seeing a good bike having good components which is perfectly tuned. For example, the road biker in that video – a perfect machine. Fantastic.
You can also join up for Trek life, an email news letter which gives you the inside scoop on whats happening at Trek and on the race circuits.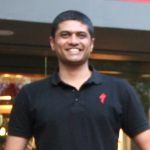 WHAT I LOVE ABOUT CYCLING
I love riding my bike. Whether it's a simple commute, a high-intensity road race, a jaw-grinding brevet, fixie rides thru packed Indian city or a kick-ass technical single track – I love it all. Apart from riding bicycles, I love being all geeky and know everything there is to know about bicycles, technology, bike fit, and service.
I started BUMSONTHESADDLE to share this passion for cycling.
DISCIPLINE: Partial towards MOUNTAIN BIKING but love it all
CURRENT BIKE(S): Specialized Rockhopper, Specialized Tarmac, Pure Cycles Original
DREAM BIKE: S-Works Epic HT & S-Work Roubaix
OTHER PASSIONS: Technology, Photography, Baking, Travel, and Reading