Our trusty chalk board with bike prices
All prices seem to be going just one direction, UP !

We were recently told by TREK India, that all prices are going to be hiked up an approximate 20% because of an overall increase in the price of raw materials.
The Trek 4300D is the first bike to take the hit.

Earlier the bike used to cost Rs. 22,995

and now its costing a cool Rs 26,230

thats a 14% hike
Looks like the other bikes are all gonna follow suit in less than a months time.
Something to know – Shimano, which is a major bicycle component manufacturer, has increased its production by 40% and still requires a delivery lead time of 9 – 12 months. Mainly because of the demand for its parts ! Kinda shows which direction the world is heading towards with respect to cycling !
Here's a podcast on how it's going to affect every single manufacturer.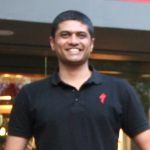 WHAT I LOVE ABOUT CYCLING
I love riding my bike. Whether it's a simple commute, a high-intensity road race, a jaw-grinding brevet, fixie rides thru packed Indian city or a kick-ass technical single track – I love it all. Apart from riding bicycles, I love being all geeky and know everything there is to know about bicycles, technology, bike fit, and service.
I started BUMSONTHESADDLE to share this passion for cycling.
DISCIPLINE: Partial towards MOUNTAIN BIKING but love it all
CURRENT BIKE(S): Specialized Rockhopper, Specialized Tarmac, Pure Cycles Original
DREAM BIKE: S-Works Epic HT & S-Work Roubaix
OTHER PASSIONS: Technology, Photography, Baking, Travel, and Reading