Ahoy Women Bikers. The WSD bikes have reached Indian shores and we should be getting a demo bike soon.
(WSD = Women's-Specific Design)
These amazing Treks sport female-physiology-friendly designs and technologies that make riding easier, more comfortable and more fun. Because you're built differently from a man, your bike should be too. WSD bikes are engineered for women. Each bike puts you in a more natural riding position by redistributing weight more evenly between hips and hands. That means more comfort, better control and optimal power
Some of the assumptions that are made while designing these bikes
women generally have longer legs and shorter torsos.
They generally have smaller hands, and narrower shoulders.
Biking companies design their bikes with this in mind. The top tubes are shorter, handlebars are narrower, and the grip diameters are smaller.

Oh yeah, they also include a WSD saddle since womens "sit" bones are a little wider than mens.
The components and materials used are usually all the same.
Currently we are shipping only the Trek 3700 WSD model and the cost is the same as the non-WSD frames.

Get more info about WSD bikes from the Trek website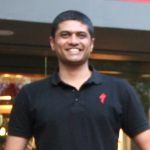 WHAT I LOVE ABOUT CYCLING
I love riding my bike. Whether it's a simple commute, a high-intensity road race, a jaw-grinding brevet, fixie rides thru packed Indian city or a kick-ass technical single track – I love it all. Apart from riding bicycles, I love being all geeky and know everything there is to know about bicycles, technology, bike fit, and service.
I started BUMSONTHESADDLE to share this passion for cycling.
DISCIPLINE: Partial towards MOUNTAIN BIKING but love it all
CURRENT BIKE(S): Specialized Rockhopper, Specialized Tarmac, Pure Cycles Original
DREAM BIKE: S-Works Epic HT & S-Work Roubaix
OTHER PASSIONS: Technology, Photography, Baking, Travel, and Reading