Companies paying their employees to bike to work ???? Check out the video above, first posted at CommuteByBike

May sound crazy. But it actually makes a lot of sense if you think about it.
Advantages
Company does not have to pay for parking space
Employee Fitness taken care of while in commute
In many cases folks save time while commuting by bike
Company can get lot of mileage from this initiative
and the list goes on…
Some of our customers are trying to talk to their companies to try and get some benefits for folks who Bike to Work – a shower in office, make the company pay a percentage of the bike, parking stands etc etc.
Do you think you can do the same in your company ?
Have an idea on how we can make a difference and make the world a better place ?

Talk to us. Let us know if we can help you.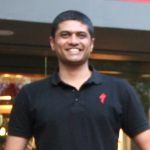 WHAT I LOVE ABOUT CYCLING
I love riding my bike. Whether it's a simple commute, a high-intensity road race, a jaw-grinding brevet, fixie rides thru packed Indian city or a kick-ass technical single track – I love it all. Apart from riding bicycles, I love being all geeky and know everything there is to know about bicycles, technology, bike fit, and service.
I started BUMSONTHESADDLE to share this passion for cycling.
DISCIPLINE: Partial towards MOUNTAIN BIKING but love it all
CURRENT BIKE(S): Specialized Rockhopper, Specialized Tarmac, Pure Cycles Original
DREAM BIKE: S-Works Epic HT & S-Work Roubaix
OTHER PASSIONS: Technology, Photography, Baking, Travel, and Reading