Some Pics of Car Free Week
some more shot by Kiran
Yesterday was the grand finale of the Car Free week organized by GO Cycle .
Bicyclists met up at 4 corners of the city and biked to a common location near M.G Road. After which we decided to hit the streets and did a small rally down Cubbon road, back on M.G Road and back to the hotel.
After which there was some chit chat, some quizzes and the GO Cycle group showcased their video on biking. Very nice (we need to post that here sometime)
The group then broke off with some enthusiastic bikers taking off on a longer ride and some of us decided to chill out at Pecos :)
Overall a very good response. There were around 100+ bikers.
The past few months we have been toying around with the idea of having a Critical Mass kinda movement in the city. After the event there were quite a few who were interested in the same. So we will be doing some short write ups on what Critical Mass is and when we can have one in the city.
Till then – Ride ON :)
How helpful was this article?
Click a star to rate.
Average rating / 5. Vote count:
Shucks. We're sorry this post was not that useful
How can we improve this post for you?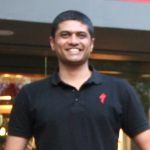 WHAT I LOVE ABOUT CYCLING
I love riding my bike. Whether it's a simple commute, a high-intensity road race, a jaw-grinding brevet, fixie rides thru packed Indian city or a kick-ass technical single track – I love it all. Apart from riding bicycles, I love being all geeky and know everything there is to know about bicycles, technology, bike fit, and service.
I started BUMSONTHESADDLE to share this passion for cycling.
DISCIPLINE: Partial towards MOUNTAIN BIKING but love it all
CURRENT BIKE(S): Specialized Rockhopper, Specialized Tarmac, Pure Cycles Original
DREAM BIKE: S-Works Epic HT & S-Work Roubaix
OTHER PASSIONS: Technology, Photography, Baking, Travel, and Reading