Check out the latest demo bike in our fleet.

some shameless self publicity, riding trying to ride the new demo bike.
A state of the art, all plastic bike with impressive components and electronics to boot.

With a flip of a switch the bike is capable of playing soothing music and can move forward too! That too without pedaling (this is for all you cynics who ask us if our bikes need pedaling cause they cost so much)

Standing among the other demo bikes. The punny bit is the fact that both were manufactured in China :)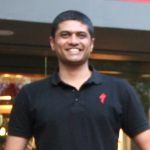 WHAT I LOVE ABOUT CYCLING
I love riding my bike. Whether it's a simple commute, a high-intensity road race, a jaw-grinding brevet, fixie rides thru packed Indian city or a kick-ass technical single track – I love it all. Apart from riding bicycles, I love being all geeky and know everything there is to know about bicycles, technology, bike fit, and service.
I started BUMSONTHESADDLE to share this passion for cycling.
DISCIPLINE: Partial towards MOUNTAIN BIKING but love it all
CURRENT BIKE(S): Specialized Rockhopper, Specialized Tarmac, Pure Cycles Original
DREAM BIKE: S-Works Epic HT & S-Work Roubaix
OTHER PASSIONS: Technology, Photography, Baking, Travel, and Reading