Samim Rizvi, in Action !
Samim Rizvi, was recently in Singapore racing for the Red Rooster racing team at the UCI Individual Time Trial Event. According to Samim, He was the first and only Indian to have the privilege of racing at an International cycle race where he stood a respectable 22nd among racers from all over the world !
Results from the race can be viewed here
With Samim at the head, we are sure these guys will do a brilliant job. Like he mentioned – "Its just the beginning"
All the best Samim. I am sure every single biker in the country wishes you well.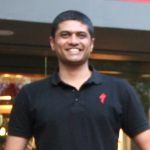 WHAT I LOVE ABOUT CYCLING
I love riding my bike. Whether it's a simple commute, a high-intensity road race, a jaw-grinding brevet, fixie rides thru packed Indian city or a kick-ass technical single track – I love it all. Apart from riding bicycles, I love being all geeky and know everything there is to know about bicycles, technology, bike fit, and service.
I started BUMSONTHESADDLE to share this passion for cycling.
DISCIPLINE: Partial towards MOUNTAIN BIKING but love it all
CURRENT BIKE(S): Specialized Rockhopper, Specialized Tarmac, Pure Cycles Original
DREAM BIKE: S-Works Epic HT & S-Work Roubaix
OTHER PASSIONS: Technology, Photography, Baking, Travel, and Reading