Nowhere to Pedal – an article by The Telegraph on the dangers of cycling in India.
A question that almost everyone asks – isint it dangerous to cycle on Indian roads ?
Why is it so dangerous ?
Riding a bicycle with the high speed traffic zooming past can be intimidating. Unfortunately we hardly have cycle lanes in this country and no one follows the lane system.
At times cyclists ride like they are riding a motorized vehicle, weaving between traffic which is really stupid.
no visibility – Its amazing how you can totally miss seeing a cyclist up ahead if there is a huge truck coming up the opposite direction. Very very dangerous.
How do we avoid getting knocked about on the road ?
visibility – make yourself as visible as possible on the road. Use reflectors, reflective vests, saddle bags. Anything that will reflect light. Best would be to have a flashing safety light on the seat post.
Ride sensibly – Stick to the left most side of the road and use proper hand signals while making turns.
Be confident – You are not scum on the road. You have as much right to the road as any other vehicle. Believe in it.
Shiva – wears reflective vests to increase visibility on road.
( all customer pictures are published with consent )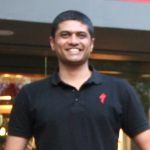 WHAT I LOVE ABOUT CYCLING
I love riding my bike. Whether it's a simple commute, a high-intensity road race, a jaw-grinding brevet, fixie rides thru packed Indian city or a kick-ass technical single track – I love it all. Apart from riding bicycles, I love being all geeky and know everything there is to know about bicycles, technology, bike fit, and service.
I started BUMSONTHESADDLE to share this passion for cycling.
DISCIPLINE: Partial towards MOUNTAIN BIKING but love it all
CURRENT BIKE(S): Specialized Rockhopper, Specialized Tarmac, Pure Cycles Original
DREAM BIKE: S-Works Epic HT & S-Work Roubaix
OTHER PASSIONS: Technology, Photography, Baking, Travel, and Reading