Wearing a helmet while biking out is something that still needs to sink into the Indian Psyche. Most people feel awkward to wear a helmet while cycling for various reasons.
Learning from your mistakes is not an option here. Besides these helmets are really light and you hardly feel them on the ride.
Turn out with the correct gear – not only is the ride turn a lot more comfortable but its a lot safer too.

Dheeraj – a happy customer posing with a Helmet.
( all customer pictures are published with consent )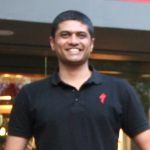 WHAT I LOVE ABOUT CYCLING
I love riding my bike. Whether it's a simple commute, a high-intensity road race, a jaw-grinding brevet, fixie rides thru packed Indian city or a kick-ass technical single track – I love it all. Apart from riding bicycles, I love being all geeky and know everything there is to know about bicycles, technology, bike fit, and service.
I started BUMSONTHESADDLE to share this passion for cycling.
DISCIPLINE: Partial towards MOUNTAIN BIKING but love it all
CURRENT BIKE(S): Specialized Rockhopper, Specialized Tarmac, Pure Cycles Original
DREAM BIKE: S-Works Epic HT & S-Work Roubaix
OTHER PASSIONS: Technology, Photography, Baking, Travel, and Reading