frame material
A large majority of the bicycle frames manufactured are made from Aluminum and this applies to the those made by Trek as well. They've taken classic Aluminum one step further to differentiate the work that goes into the different frames they manufacture.
If you do own a 2008 Trek that has an aluminum frame you've probably noticed a label on the seat tube that says alpha aluminum with a white/black/red dot next to it. What does this mean?
alpha red
This is Trek's premium aluminum alloy, Alpha Red indicated by the red dot uses ZR9000 or 7000-series aluminum that has been hydroformed or mechanically formed into sophisticated tube shapes to improve strength in critical regions as well as performance. The butting profiles are also optimized for maximum strength and minimum weight.
alpha black
Next in line on the scale is Trek's high-performance aluminum alloy, Alpha Black (black dot). These frames are made from the 6000-series aluminum that has been hydroformed or mechanically formed. Tube complexity is lower as compared to alpha red. These tubes are also worked on to optimize the tube shape and butting profiles, that help reduce weight and strengthen stressed areas.
alpha white
A number of entry level Trek frames are made from Alpha White. This is shown by a white dot. Alpha white is straight gauge 6000-series aluminum. These frames are made with little or no forming.
Cut the jargon out and this is what it translates to:
alpha red ………… best
alpha black ………better
alpha white ………good
Man, I want an alpha red!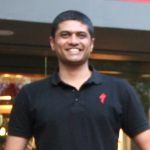 WHAT I LOVE ABOUT CYCLING
I love riding my bike. Whether it's a simple commute, a high-intensity road race, a jaw-grinding brevet, fixie rides thru packed Indian city or a kick-ass technical single track – I love it all. Apart from riding bicycles, I love being all geeky and know everything there is to know about bicycles, technology, bike fit, and service.
I started BUMSONTHESADDLE to share this passion for cycling.
DISCIPLINE: Partial towards MOUNTAIN BIKING but love it all
CURRENT BIKE(S): Specialized Rockhopper, Specialized Tarmac, Pure Cycles Original
DREAM BIKE: S-Works Epic HT & S-Work Roubaix
OTHER PASSIONS: Technology, Photography, Baking, Travel, and Reading