After Paris its New Delhi, albeit in a slightly smaller scale (click the links to find out more).
Spending more time with your bums on the saddle is a fast way to beat congestion, global warming and the other bad things that we humans do to this earth. We are glad to see Metros in India slowly waking up to this fact and making an effort.
The good news is that there are quite a few groups working on making bicycling more viable in India. Plus we are meeting more and more folks who are looking to bike to work.
Join the movement. There are no excuses – you are either a part of the problem or the solution.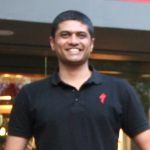 WHAT I LOVE ABOUT CYCLING
I love riding my bike. Whether it's a simple commute, a high-intensity road race, a jaw-grinding brevet, fixie rides thru packed Indian city or a kick-ass technical single track – I love it all. Apart from riding bicycles, I love being all geeky and know everything there is to know about bicycles, technology, bike fit, and service.
I started BUMSONTHESADDLE to share this passion for cycling.
DISCIPLINE: Partial towards MOUNTAIN BIKING but love it all
CURRENT BIKE(S): Specialized Rockhopper, Specialized Tarmac, Pure Cycles Original
DREAM BIKE: S-Works Epic HT & S-Work Roubaix
OTHER PASSIONS: Technology, Photography, Baking, Travel, and Reading