salvation
Traffic snarls, soaring gas prices and worries about global warming have prompted a big boost in cycling, affecting even places like Los Angeles – an article on Wired
Looks like its the same all over the place. We get to meet lots of folks who have taken to cycling to work for the very same reason. And all of them are loving it
Its kinda counter intuitive – but for quite a bit of my ride to work I am much faster on the bicycle than the motorized traffic around me.
I love my bike :)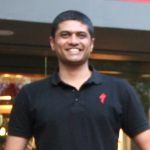 WHAT I LOVE ABOUT CYCLING
I love riding my bike. Whether it's a simple commute, a high-intensity road race, a jaw-grinding brevet, fixie rides thru packed Indian city or a kick-ass technical single track – I love it all. Apart from riding bicycles, I love being all geeky and know everything there is to know about bicycles, technology, bike fit, and service.
I started BUMSONTHESADDLE to share this passion for cycling.
DISCIPLINE: Partial towards MOUNTAIN BIKING but love it all
CURRENT BIKE(S): Specialized Rockhopper, Specialized Tarmac, Pure Cycles Original
DREAM BIKE: S-Works Epic HT & S-Work Roubaix
OTHER PASSIONS: Technology, Photography, Baking, Travel, and Reading