Happiness is a clean bike
One of the fastest ways to make sure your nice new shiny bicycle is converted into a piece of junk is to oil it, incorrectly.
When oil and dirt mix up they form a deadly combination which is abrasive in nature. Lubricating a bike is very important, but the key is to use very little and remove the excess oil.
The procedure I normally follow to maintain my drive chain is as follows:
On a weekly basis
just wrap a clean cloth around the chain and backpedal. This should remove most of the muck that is on the chain.

Once a month (or so)
clean the chain exterior as explained earlier. If the chain is really dirty you might have to resort to using a degreaser (like

WD 40

) to clean up the muck.

after the chain is relatively clean, add a drop of oil (very little) on each chain link. Its only the inside of the rollers that actually need the oil.
back pedal some 20 – 30 times so that the oil penetrates the insides of the rollers.
This should keep the chain in good working condition.
Having a clean drive chain does make your ride seem so much more pleasant !
Shucks. We're sorry this post was not that useful
How can we improve this post for you?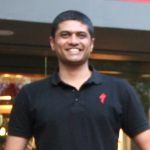 WHAT I LOVE ABOUT CYCLING
I love riding my bike. Whether it's a simple commute, a high-intensity road race, a jaw-grinding brevet, fixie rides thru packed Indian city or a kick-ass technical single track – I love it all. Apart from riding bicycles, I love being all geeky and know everything there is to know about bicycles, technology, bike fit, and service.
I started BUMSONTHESADDLE to share this passion for cycling.
DISCIPLINE: Partial towards MOUNTAIN BIKING but love it all
CURRENT BIKE(S): Specialized Rockhopper, Specialized Tarmac, Pure Cycles Original
DREAM BIKE: S-Works Epic HT & S-Work Roubaix
OTHER PASSIONS: Technology, Photography, Baking, Travel, and Reading