Another quick Sunday ride to Bannerghatta and back. These rides are nice because if you leave early (6 – 6:30 am) and keep a stiff pace you could easily be back by 8 – 8:30 am and still cover around 50km and have a good enough work out.
As usual the ride started at the Family mart on Kanakpura road. Went up Kanakpura road, too a right at the Kagalipura village and there bumped into some more bikers (Abhi, Vodka and Shree) coming in the opposite direction. Ganged up with them and decided to do some off-road exploring, which we did for about an hour.
During this small detour 4 out of 5 bikes managed to get punctured and none of us had a puncture repair kit !!
Luckily some villagers in the next village helped us out and we set out again. Got back onto Bannerghatta road and then rode back towards Bangalore.
Overall did some 60Km at a pretty decent pace and learnt an important lesson. Always carry a punture repair kit :)
Some pictures of the ride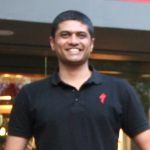 WHAT I LOVE ABOUT CYCLING
I love riding my bike. Whether it's a simple commute, a high-intensity road race, a jaw-grinding brevet, fixie rides thru packed Indian city or a kick-ass technical single track – I love it all. Apart from riding bicycles, I love being all geeky and know everything there is to know about bicycles, technology, bike fit, and service.
I started BUMSONTHESADDLE to share this passion for cycling.
DISCIPLINE: Partial towards MOUNTAIN BIKING but love it all
CURRENT BIKE(S): Specialized Rockhopper, Specialized Tarmac, Pure Cycles Original
DREAM BIKE: S-Works Epic HT & S-Work Roubaix
OTHER PASSIONS: Technology, Photography, Baking, Travel, and Reading