this is an update of the next shipment of bikes that are slated to hit our store soon. We have this on the blog so that we dont have to spam our customer with info if they really dont need it
]
The scene has been pretty bad the past few weeks. We were unable to get any Treks for our customers, cause we were out of Treks in the country ! (yahooo that means that many more butts on bicycles !!) The fresh shipment was slated to hit the Indian stores late May.
The bikes are finally here. (ummm .. not in Bangalore yet, still in Delhi). After a quick check in Delhi they are going to be shipped to dealers all over the country.
Some hiccups.
– Some models which were supposed to come (Trek 3700 – 19.5" frame and Trek 4300D – 18" frame) did not make it in this shipment. We are trying to see how to get these really fast, but they have to basically be shipped to India again. So that means a delay of another 3 weeks (minimum) :(
If you have any questions about your bike please do mail us or call us. We would be glad to talk to you about this.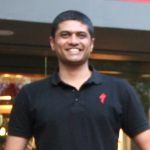 WHAT I LOVE ABOUT CYCLING
I love riding my bike. Whether it's a simple commute, a high-intensity road race, a jaw-grinding brevet, fixie rides thru packed Indian city or a kick-ass technical single track – I love it all. Apart from riding bicycles, I love being all geeky and know everything there is to know about bicycles, technology, bike fit, and service.

I started BUMSONTHESADDLE to share this passion for cycling.

DISCIPLINE: Partial towards MOUNTAIN BIKING but love it all
CURRENT BIKE(S): Specialized Rockhopper, Specialized Tarmac, Pure Cycles Original
DREAM BIKE: S-Works Epic HT & S-Work Roubaix

OTHER PASSIONS: Technology, Photography, Baking, Travel, and Reading

[