Your bike needs to fit you, if not its going to be like one of those tight or overly loose T shirts that you just hate. Classic signs of an improper fit are lower back pain, numb hands and pain in the shoulders after you ride around a bit.
Its not very simple to fit a bike when a customer comes in for a bike, cause each person is so different. At the most the basic things like the seat height, frame size and handle bar position can be taken care of. The rest needs to be tweaked ride after ride. Googling for "Bike fitting" can bring up tons of sites each offering tons of advice.
Came across one such article , which suggested small tweaks for specific aches and pains. Nice ! :)
Whew, what happened to all those simple bikes that you just bought and rode without thinking of fit, gears, gear ratios etc etc :)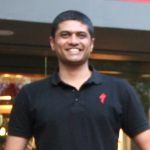 WHAT I LOVE ABOUT CYCLING
I love riding my bike. Whether it's a simple commute, a high-intensity road race, a jaw-grinding brevet, fixie rides thru packed Indian city or a kick-ass technical single track – I love it all. Apart from riding bicycles, I love being all geeky and know everything there is to know about bicycles, technology, bike fit, and service.
I started BUMSONTHESADDLE to share this passion for cycling.
DISCIPLINE: Partial towards MOUNTAIN BIKING but love it all
CURRENT BIKE(S): Specialized Rockhopper, Specialized Tarmac, Pure Cycles Original
DREAM BIKE: S-Works Epic HT & S-Work Roubaix
OTHER PASSIONS: Technology, Photography, Baking, Travel, and Reading