Its da Season when getting caught in a shower is inevitable !
If you are on a motor bike or a car it might be time to cuss as rampant
traffic jams get even more impossibly rampant. Not on a cycle though,
as long as you dont mind the occasional drenching !
But still, unless you like scraping mud off your back (or bag) its time
to put back the fenders(mud guards). Last thursday it rained a bit, I
thought the ride was awesome, until I got home and figured that there
is a ton of mud on my back ! Yuck !
Picked up a pair of Firefox fenders and installed them on my Target.
Installation was pretty simple, once we figured how the front set fit.
Overall the set are very light, look sturdy and are easy to remove when
not needed !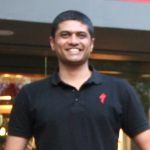 WHAT I LOVE ABOUT CYCLING
I love riding my bike. Whether it's a simple commute, a high-intensity road race, a jaw-grinding brevet, fixie rides thru packed Indian city or a kick-ass technical single track – I love it all. Apart from riding bicycles, I love being all geeky and know everything there is to know about bicycles, technology, bike fit, and service.
I started BUMSONTHESADDLE to share this passion for cycling.
DISCIPLINE: Partial towards MOUNTAIN BIKING but love it all
CURRENT BIKE(S): Specialized Rockhopper, Specialized Tarmac, Pure Cycles Original
DREAM BIKE: S-Works Epic HT & S-Work Roubaix
OTHER PASSIONS: Technology, Photography, Baking, Travel, and Reading