– Tired ?
– Breathless after your commute to work ?
– Lethargic ?
– … (enter whatever you want)
Might be because of the pollution !
Have been commuting to work on a cycle for around 2 years now and suddenly the last two months have been feeling that the pollution levels have increased.
Decided to try wearing a air filter and see if it actually makes a difference.
… and it DOES !
A HUUUGE difference actually.
A company called Clair manufactures some decent looking air filters (im wearing one in the pic) and IISC has also given its stamp of approval. The filters are prices at 135 bucks and are effective at filtering out all the muck for over 3 months. These filters apparently block out the smallish particulate matter as well as gases such as Carbon monoxide (and a bunch of other gases having other alphabets). I bought mine at a chemist.
Totally recommend wearing one if you commute to work on a bicycle. I don't think its a bad idea wearing one even if you commute on a motorcycle !
Pros
– light weight
– reasonable
– effective !
– decent looking
Cons
– Its big
– it can get Hot !! (esp now thats its summer)
Only problem is that you miss out on the air whipping (rather pollution) around your face when you zip around town. Same difference, like when you wear a helmet. You give up something to protect something !!
Another air mask, a UK brand – Respro which has specific masks for cycling.
[update – another new Mask in town,
TOTOBOBO
. Read our
review
]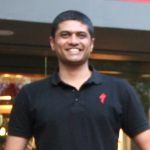 WHAT I LOVE ABOUT CYCLING
I love riding my bike. Whether it's a simple commute, a high-intensity road race, a jaw-grinding brevet, fixie rides thru packed Indian city or a kick-ass technical single track – I love it all. Apart from riding bicycles, I love being all geeky and know everything there is to know about bicycles, technology, bike fit, and service.
I started BUMSONTHESADDLE to share this passion for cycling.
DISCIPLINE: Partial towards MOUNTAIN BIKING but love it all
CURRENT BIKE(S): Specialized Rockhopper, Specialized Tarmac, Pure Cycles Original
DREAM BIKE: S-Works Epic HT & S-Work Roubaix
OTHER PASSIONS: Technology, Photography, Baking, Travel, and Reading