The Bicycle scene in India is slowly improving with brands like Hero, Firefox and Trek coming up with some really nice models.
Problem is there are very few dealers who want to give good advice on which bike a customer should actually pick up (which makes sense, cause everyone just wants to sell what they stock).
So its easy to get fooled into picking up a jazzy looking bike which might not be all that great and might not suit your riding.
… and this is one thing that we aim to change.

the Hero Octane
Always have been meaning to check out the Hero Octane. Somehow, I always felt that the bike was not that great (just looking at it).
So swapped bikes with Deepak who owns an Octane and …
some things to keep in mind
Length of ride – I rode this for around 4Km, I dont think this is a long enough ride to actually feel the bike.
off road – did not take this bike off road.
Firefox target – i have been riding the firefox target for quite sometime, which is a hard tail, and this is the first time that I have ever ridden a full suspension bike.
Overall the experience was not bad, but neither was it great. Compared to the Firefox Target I felt this bike was lacking in a few areas
Brakes – The octane has rear and front disc brakes. But the brakes were kinda crappy. My friend says he has not yet tightened the brakes (these are not hydraulic). But I was disappointed, cause I was hoping to experience some really good braking power. Compared to this the V-Brakes on the Firefox Target are phenomenal – extremely responsive and snappy.
Dual Suspension – First time on a dual suspension. And I dont like it. I like to push it when I ride back home and go as fast as possible. And on the dual suspension I kept bobbing all the time. Kinda irritating and felt I was loosing power !
Handling – The frame is ok-light, but it does not handle that well. I missed the freedom that I have gotten used to from the Firefox Target. The octane needed a little coaxing to move where I wanted it to move. I normally dont do this often, but at times when traffic is just not moving I get really irritated and zip among the other vehicles and just move on. Something that I would never do with this bike.
Gears – I think the gears are the same on both the bikes, but I like the shifters on the Target better. The Gear Ratios on the Firefox Target were definitely better (maybe because it has a bigger Chain ring). On the same road, at the same cadence, my friend who was riding my firefox target was zipping ahead of me and I was trying to catch up. Have noticed the same on my earlier Hero Thunder too ! After I got back onto my bike I was so happy to get back the speed rush that I normally get on the Firefox Target !!
Seat – the seat on the Octane is one of the smallest I have ever sat on. Maybe because I am used to slightly bigger seats, but this was a little pain in the ass. But Deepak said the same about the seat on the Target. So I guess its just that both of us are used to the seats on our bikes.
Frame – The frame is a bit unwieldy. I was contemplating picking up this bike a year back, with the idea of sawing off that ugly carrier ! ugh. I hate it. But then Deepak felt that the carrier was indispensable.
Not a bad bike at all. But not sure if I would really recommend this bike.
I would prefer a Hero Thunder or the Firefox Target instead.
Updated: Deepak decided to critique his bike. Here is the review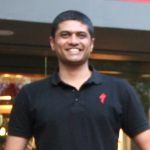 WHAT I LOVE ABOUT CYCLING
I love riding my bike. Whether it's a simple commute, a high-intensity road race, a jaw-grinding brevet, fixie rides thru packed Indian city or a kick-ass technical single track – I love it all. Apart from riding bicycles, I love being all geeky and know everything there is to know about bicycles, technology, bike fit, and service.
I started BUMSONTHESADDLE to share this passion for cycling.
DISCIPLINE: Partial towards MOUNTAIN BIKING but love it all
CURRENT BIKE(S): Specialized Rockhopper, Specialized Tarmac, Pure Cycles Original
DREAM BIKE: S-Works Epic HT & S-Work Roubaix
OTHER PASSIONS: Technology, Photography, Baking, Travel, and Reading