riding out on a lazy saturday morning
Finally, some time to write about this weekends ride.
We drove out on Mysore road until we reached Eagleton resorts. Started the ride somewhere around there.
All in all a short ride, 22Km. But some parts of the ride were beautiful, like riding through these eucalyptus tree forests and suddenly coming upon a huge lake. Very nice !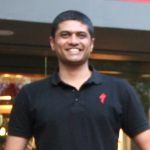 WHAT I LOVE ABOUT CYCLING
I love riding my bike. Whether it's a simple commute, a high-intensity road race, a jaw-grinding brevet, fixie rides thru packed Indian city or a kick-ass technical single track – I love it all. Apart from riding bicycles, I love being all geeky and know everything there is to know about bicycles, technology, bike fit, and service.
I started BUMSONTHESADDLE to share this passion for cycling.
DISCIPLINE: Partial towards MOUNTAIN BIKING but love it all
CURRENT BIKE(S): Specialized Rockhopper, Specialized Tarmac, Pure Cycles Original
DREAM BIKE: S-Works Epic HT & S-Work Roubaix
OTHER PASSIONS: Technology, Photography, Baking, Travel, and Reading