what to expect on the Bike Hash
There is a bike HASH this weekend !!! Yaaaaaa…
so what is a Bike HASH. Wait a freaking minute, whats a HASH ?
HASH is a motely group who meet once in two weeks to run in the country side. Normally, we meet up have a good run ( around 10km ) after which we chill out, drink beer and tease a few people in the group ( can it get better than that ?? )
Hence, we are also known as the 'Drinking people with the running problem'
In a bike hash, instead of running, we cycle. Simple.
Want to know more about us head over to the Bangalore Hash House Harriers website and find out. Apparently there are lotsa crazy people on this earth and this is a world wide Phenomenon ( the HASH, not the people )
Ok. Back to the Bike Hash happening this weekend.
The event is split into two days
Sat – 9 Dec
Party at the Chancery Pavilion, Residency Road
Sun – 10 Dec
the bike hash itself.
starts around 10am.
followed by lunch (I think)
So two days of Torture will cost you Rs 500 (Rs 600 if you are coming to the HASH for the first time, like I mentioned before we like to tease people)
50 bucks off if you get your own cycles. (ya cheap slobs)
So in case you are interested you can leave me a line for clarifications.
Or
if you are sold on this just call up
DUDE – 98841 33095
Camel Rider – 98860 26857
(yeah we have some wierd sounding people at the HASH)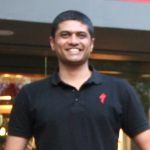 WHAT I LOVE ABOUT CYCLING
I love riding my bike. Whether it's a simple commute, a high-intensity road race, a jaw-grinding brevet, fixie rides thru packed Indian city or a kick-ass technical single track – I love it all. Apart from riding bicycles, I love being all geeky and know everything there is to know about bicycles, technology, bike fit, and service.
I started BUMSONTHESADDLE to share this passion for cycling.
DISCIPLINE: Partial towards MOUNTAIN BIKING but love it all
CURRENT BIKE(S): Specialized Rockhopper, Specialized Tarmac, Pure Cycles Original
DREAM BIKE: S-Works Epic HT & S-Work Roubaix
OTHER PASSIONS: Technology, Photography, Baking, Travel, and Reading